My name is Thomas Sturm and I'm a programmer, photographer and writer.

Now go outside and look at the sky.
Stockton in a Jiffy
Here are two more night shots I've taken with my seventy-year old Jiffy Kodak Six-20. These are from one of those foggy nights in autumn when cold, wet wind from the ocean pushes the fog through San Francisco's downtown.
In such nights many corners in our neighborhood transform into scenes from late forties noir detective movies and one would not be surprised to see Sam Spade in a trench coat following the subject of his latest investigation down along the darkened streets.
The first is a photo taken facing south from atop the Stockton Tunnel entrance, and the second shot is facing north above the other end of the Stockton Tunnel into Chinatown.
Incidentally, the building on the very right in the first picture is the location where in the novel "The Maltese Falcon" Sam Spade's partner, Miles Archer, is shot.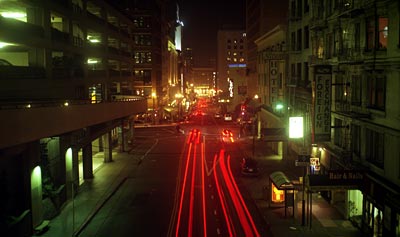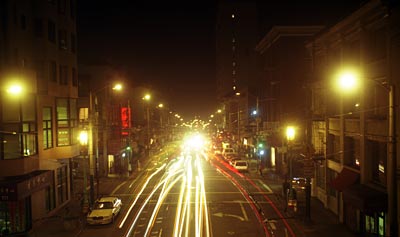 Oh - and if you've never read "The Maltese Falcon", what are you waiting for?